Out-of-Print Children's Books
(Limited quantities, No Longer Being Published)
hidden
Ballet Guide
Anita Ganeri's written description provides an introduction to ballet for young readers. The book is illustrated with color photographs and has a CD with music from The Nutcracker, Swan Lake, and The Sleeping Beauty. Ages 9 & up.
First Edition.
Only 1 copy available.
Ballet Guide
HM1846 $25.00
- - - - - - - - - -
Shakespeare Guide
Who was William Shakespeare, and why has his work remained so beloved for centuries? These and other questions are answered with an exciting combination of narrative, pictures, and passages from his plays. The book and CD was created in association with the Royal Shakespeare Company. The CD cotains excerps form his plays as well as music of the period. Ages 9 & up.
First Edition.
Only 1 copy available.
Shakespeare Guide
HM1019 25.00
- - - - - - - - - -
Farmer Duck
There once was a duck who had the bad luck to live with a lazy farmer. The duck did all the work while the farmer lay in bed. Until ... "MOO!" "BAA!" "CLUCK!" ... the other animals came to the rescue. Listen to the CD to find out why Duck does all the work. By Martin Waddell and illustrated by Helen Oxenbury. Paper with audio CD. Ages 2 - 5.
Only 1 copy available.
Farmer Duck
CW1121 $8.99
- - - - - - - - - -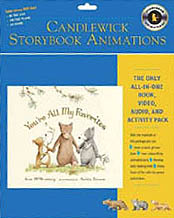 You're All My Favorites
Every night, while tucking in their three cubs, Mommy and Daddy Bear tell them they're the most wonderful baby bears in the whole wide world. But one day the three little bears start to wonder: How do Mommy and Daddy know this is true? And even more worrisome to each sibling: What if my parents like my brother or sister better than me? Activity Pack with DVD, Poster with Stickers and Hardcover Book. By Sam McBratney and illustrated by Anita Jeram. Ages 2 - 5.
Only 1 copy available.
You're All My Favorites
CW0453 $14.99
- - - - - - - - - -