Harry the Dirty Dog
Author Gene Zion, Illustrator Margaret Bloy Graham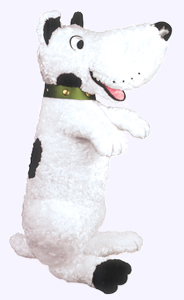 Harry the Dog Plush
Harry is made of super-soft white chenille plush that's great for snuggling. He also features sewn-in black spots and a green vinyl collar with golden studs. A playful pooch with a penchant for mischief, Harry has lively, embroidered eyes; a shiny patent leather nose; and a bean-filled bottom that allows him to sit upright. This loveable storybook character is 10" tall.
Harry the Dog Plush
YT0371 $21.95
- - - - - - - - - -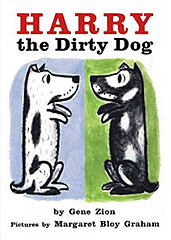 Harry the Dirty Dog
There's never been another dog as delightful -- or dirty -- as Harry. Whether he's a white dog with black spots, or a black dog with white spots, Harry is sure to steal your heart (and your scrub brush, too, if you're not careful). First published in 1956, this beloved classic is a collaboration between Gene Zion and two-time Caldecott Honor winner Margaret Bloy Graham. The artist has added splashes of color to the cheerful scenes for this welcome new edition. Hardcover. Ages 3 - 8.
Harry the Dirty Dog
HC8657 $17.99
Our Price $15.29
- - - - - - - - - -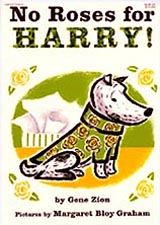 No Roses for Harry!
Harry, his spots shining cleanly, is the not-too-happy recipient of a sweater, hand knitted by Grandma. And what a sweater it is, with its pattern of of full-blown roses. Hardly the thing for a self-respecting dog to wear! Harry tried vainly to lose the gaudy object, and indeed his effors almost succeeded. But he soon learned that people are all too helpful, and someone always brought it back. Hardcover. Ages 3 - 8.
No Roses for Harry!
HC8909 $17.99
Our Price $15.29
- - - - - - - - - -
(c)Castlemere 2002 - 2019