Bears on Chairs, in Beds, in Bath, and a Birthday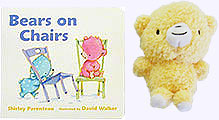 Bears on Chairs
Book and Little Bear Set
Four happy bears on four small chairs. Uh-oh! No more chairs! Where will Big Brown Bear sit? Cuddle up with this adorable little bear and board book that makes the idea of sharing simply irresitible! Board Book and Plump Plush 5" Bear. Ages 0+.
Bears on Chairs
Book and Little Bear Set
CW8783 $15.99
- - - - - - - - - -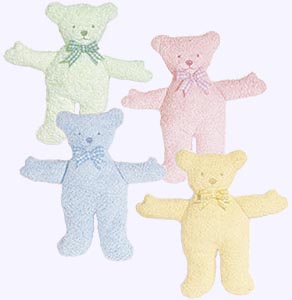 Baby Bear Plush
Small and cuddley, these plush bears are perfect companions for the stories of Bears on Chairs, Bears in Bed, Bears in the Bath and Bears and a Birthday. 5 1/2" Bears make a crinkle sound when squeezed by a child. They are made from soft ultra-suede velboa, baby safe and machine washable.
Baby Bear Plush
NA8208 $7.95
Baby Bear Plush Set
All four Baby Bears - Pastel Green, Pink, Blue and Yellow. (Get one bear free.)
Baby Bear Plush Set
NA8208S $23.85
- - - - - - - - - -