Kiddo's Rainy Play Day
Kiddo is a little lamb, Chirp is his wee feathered friend. They love to play in the rain, splashing again and again. Cloth Soft Book. Chirp has a squeeker inside and is fastened with a sturdy cord. Inside pages have differnt sewn in texture pieces for babies to explore.
Kiddo's Rainy Play Day
KP2026 $11.95
- - - - - - - - - -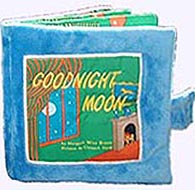 Goodnight Moon
Cloth Book
It's time to say goodnight, and on each soft page of this classic bedtime book, the quiet words and pictures will lull a child to sleep. Surface washable. Plush Cloth Book with velcro closure. Safe for all ages.
Goodnight Moon Cloth Book
HC2247 $14.99
- - - - - - - - - -