Opal Doll and
Story Book Set
11" Opal Doll is dressed in a soft iridescent organza tutu with a satin bodice trimmed with sparkly pink braid and a satin ribbon rosette. With her blushing cheeks, soft velour figure and curly tail, embroidered eyes, sparkly velvet inner ears and smile, and satin ballet slippers, Opal will dance her way into every girl's heart! The One and Only and Charming Opal storybooks are by Holly Hobbie. Hardcover. Ages 4 - 8.

Only 1 set available
YT0335 $59.95
- - - - - - - - - -
Alice Cloth Doll Set
Alice is 17" tall and sits 12" high. Her pinafore is bright white. Her expressive face and blonde hair are silk screened to her cloth body as is her cloth body blue and white stripe.
Set includes Alice in Wonderland unabridged Collectable Classic Hardcover w/ribbon markers and gilded edges. Includes Victorian Glossary.


This doll is no longer being produced. Only 1 Available.
Alice Cloth Doll Set
TW1470 $59.95
This test is hidden This test is hidden This test is hidden This test is hidden.
- - - - - - - - - -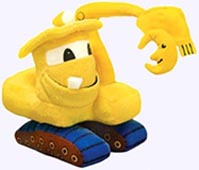 The rest of this text will be hidden
Page Under Construction

Thanks for Visiting
Check Back Soon
The rest of this text will be hidden
The rest of this text will be hidden
The rest of this text will be hidden
The rest of this text will be hidden
(c)Castlemere 2002 - 2020